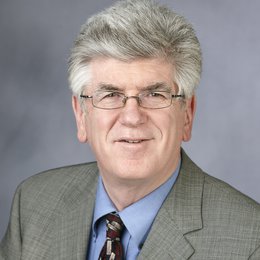 Stephen P. A. Brown
Stephen Brown passed away during the spring of 2020. A eulogy to Dr. Brown was published on Common Resources.
Stephen P. A. Brown was a professor of economics at the University of Nevada, Las Vegas. He was also a University Fellow at Resources for the Future and Senior Editor of the international academic journal Energy Policy. An internationally recognized scholar for his work in energy economics, Dr. Brown conducted economic research and analysis in such areas as energy, environment, natural resources, climate policy, public finance, macroeconomics and regional economic growth.
Prior to joining the University of Nevada, Las Vegas, Dr. Brown was nonresident fellow and co-director of the Center for Energy Economics and Policy at Resources for the Future. From 1981 through 2008, Dr. Brown pursued economic research and analysis at the Federal Reserve Bank of Dallas. While at the Dallas Fed, he created and directed the regional economics group and later created and directed the energy and microeconomic policy group. He also managed the Dallas Fed publications, The Southwest Economy and Economic and Financial Review.
Dr. Brown was on the advisory board for the journal Energy Economics, a regular participant in meetings of the Stanford Energy Modeling Forum, and previously served on the American Statistical Association's advisory board for the US Energy Information Administration. In addition to UNLV, he also taught at Arizona State University, the University of Colorado–Denver, Southern Methodist University, and Tulane University.
Dr. Brown was honored as a senior fellow by the US Association for Energy Economics in 2008. His coauthored article, "What Drives Natural Gas Prices?" was recognized by the International Association for Energy Economics (IAEE) as the best article published in The Energy Journal during 2008. The IAEE also recognized his coauthored article, "The Green Paradox of US Biofuel Subsidies: Impact on Greenhouse Gas Emissions" as the best article published in the Economics of Energy & Environmental Policy during the five-year period 2012-2016.
Education
PhD in economics, University of Maryland, 1979
MA in economics, University of Maryland, 1977
BS in economics, California Polytechnic State University, 1972
Highlights
Highlights
Publications
Events
Editorial
News